Ritual Play by Marina Kronkvist
Marina Kronkvist – die Schöpferin des Ritual Play.
Diese großartige Frau deren innere Schönheit durch jede Pore strahlt, ist eine meiner größten Vorbilder und Inspirationen. In großer Dankbarkeit teile ich hier (mit ihrer Zustimmung) Texte, Bilder und Videos zum Ritual Play.
Marina about herself

"I love evolving mine and other's ability to engage in meaningful, mutually empowering, loving, full spectrum dynamics. Ritual Play is a new interactive session format & workshop I have created. Ritual Play is also my participatory art practice, my yoga and my favorite social meditation. I empower lovers and change-makers, through Ritual Play and Money Mindset coaching in finding their own unique way of contributing to the more beautiful world our hearts know is possible."
Marina about Ritual Play
Ritual Play offers a clear, repeatable format for an interactive, non-verbal, two-way touch dynamic to unfold between a practitioner and a client, within a defined time and space. It is a practice for all ages, all genders and all sexual orientations.
Ritual Play is intimate in its invitation to honesty. Sensual or sexual energy might be part of what appears in the dynamic, but there is no intention to achieve any particular state, feeling or expression. The invitation is to be willing to allow a dynamic without a goal to unfold. The invitation is to practice awareness of what ever is unfolding when the responsibility of each is to stay true to their own impulses and responses, moment by moment, and keep relating.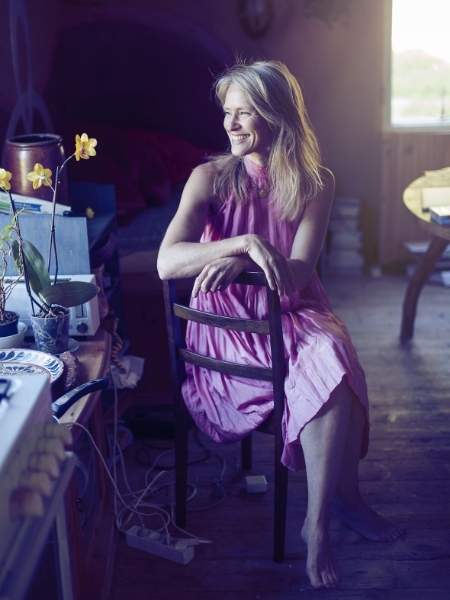 4 INVITATIONS
No goal – no intention to achieve any particular expression, experience or feeling. Open ended interaction. Timer stops the interaction.
Do not censor yourself, but give – moment by moment – the honest impulses and responses you have. Consider everything that arises within the Ritual Play structure – every state of mind & emotion, impulse & response as material for play. The embodied states, put to play, can be described as silly, nurturing, caring, distant, close, erotic, curious, devotional, power hierarchical, restful etz. All emotional & bodily expressions –gestures, in self and other are equally valuable material for play. This is the material that leads your play forward.
Self-care: only engage in what is meaningful & safe enough for you, nothing else.
Play within the frames of reversibility. Reversibility means the ability to stop an action or an emotional process – to restart it, reverse it, or drop it all together. What ever you give to the dynamic, give it so the other has a choice on how they respond to it.
Structured beginning & end to play
10 STEPS
Set up space (yoga matts, matt, mattresses, futon)
Make sure all involved know the invitations and the rules
Communicating if any injuries
Decide the time of Play + set timer
Eye contact
Placing technique
Unfolding dynamic, honest moment by moment
Timer ends the dynamic
Both finds own way out of the mat
Eye contact + sign of "thank you"
Marinas website
Für visuelle Eindrücke:
What I love about Ritual Play
Ritual Play Training Teaser
Benefits of Ritual Play
Develops your skill to be present, aware, conscious and embodied.
Using breath, sound and movement as tools for expressing and moving energy.
Cultivates your ability to experience highly charges states without a goal.
Alleviating emotional fear, shame and guilt.
Becoming more fulfilled and personally empowered.
Awakens parts of yourself that have remained repressed or "asleep."
Develops awareness without judgement
Experience of clear in-directed focus
Learning through self-awareness
Self-compassion
Becoming skilled in the subtleties of the sensory system
Intense tactile awareness of sensory phenomena which activates the parasympathetic nerve currents.
Relaxing and emptying of the verbal mind.
Arousal and easy flow of feelings, sexual energy and what ever energy wants to become acknowledged.
Relief from distressing tensions in the body
Sexy sensuality and ecstatic bliss & fun
Angeline über Ritual Play:
"Für mich war der Ritual Play Workshop eine Offenbarung: nichts war falsch, jeder Impuls richtig und gleichwertig. Verspielt zu lachen, sich zu balgen, zu kitzeln, zu teasen, in Stille beieinander zu sein.. mit wildfremden Menschen oder auch mit dem Liebsten. Sich nonverbal auszudrücken und an der Reaktion zu merken ob man klar war oder indifferent. Zu Führen, zu Folgen – ein Tanz, intensiv, intim, unwiederholbar. Einfach ein Geschenk des Moments."
In unserem Workshop "Momentum and Joy" kannst du Ritual Play erleben und erforschen.
Feedbacks zum Workshop "Momentum & Joy" im KuschelRaum:
"Ich bin total dankbar für die spielerischen Begegnungen und die Klarheit und Sicherheit und Wildheit und Phantasie und Bändigung und den Muskelkater und diese wohltuende, kraftvolle Erschöpfung. Wachsen muss nicht immer weh tun, es darf auch Spaß machen. Boom!"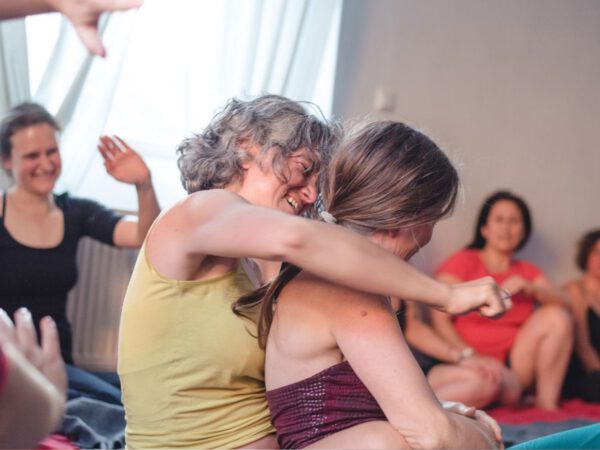 "'Ritual Play'? Und was ist das nun wieder? Ein wunderbar sicherer, klar abgesteckter Moment zum Spielen. Je nach Ansage erstmal nur ein paar Minuten lang. Die perfekte Einladung, zu tun wonach Dir gerade ist. Zusammen mit einem anderen Menschen. Das geniale daran: es gibt kein Ziel zu erreichen, keine Leistung zu bringen. Nur Spiel. Von der bewegungslosen Stille bis zum krachenden Chaos, vom schallenden Lachen bis zum gelangweilten Schweigen. Und alles ist gleichwertig willkommen, alles ist sowas von o.k. Sogar, nicht zu spielen. Und das alles passiert praktisch von selbst. Man braucht sich nicht einmal 'was auszudenken. So befreiend, so unterhaltsam, so wohltuend, so eine kostbare Erfahrung. Und für Dich selbst: Du hast eine wundervolle klare Ruhe, ein so herrliches Lachen, eine kraftvolle Ausstrahlung und ein wunderschönes Lächeln, zum Beispiel wenn Du den Menschen zuhörst."
"Der Abend schwingt immer noch nach. Was für eine fantastische Methode! Ritual Play ist krass. Roh. Nah. Unmittelbar. Unglaublich lebendig. Wow. Authentic relating meets Improtheater oder so. Kann's kaum erwarten wieder zu spielen. Ich danke allen Teilnehmern und Angeline! Sie schafft es diesen sicheren Raum zu erschaffen, in dem wir uns austoben konnten und ich auch mein tiefstes Inneres nach außen kehren konnte. Angeline leitet enorm sympathisch, witzig, nahbar und an den richtigen Stellen ernst. Fühl mich damit echt wohl. Danke!"